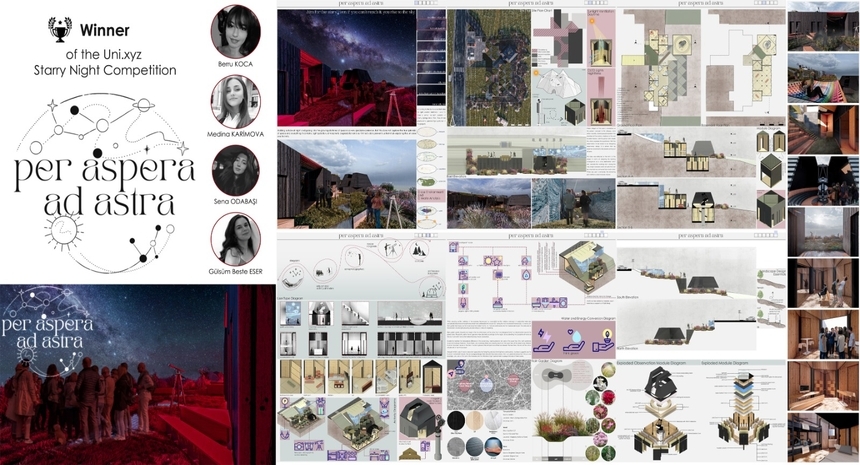 This year, 202 projects from more than 50 countries participated in "9th Advanced Architecture Contest" with the theme of "Biocities" organized by IAAC - Institute for Advanced Architecture of the University of Catalonia. 28 among 130 projects made it to the finals with on-site screening by the jury consisting Vicente Guallart (IAAC Founder), Giuseppe Scaracia (University of Tuscia), Elena Orte (Suma Arquitectura), Astrid Piber (UNStudio), Daria Bychkova (Bureau CHEKHARDA) and Donald Bates (Lab Architecture Studio).
PER ASPERA AD ASTRA project by Berru Koca, Beste Eser, Medina Karimova and Sena Oda, who are the students of Studio ThinkImagine, Gazi University Faculty of Architecture (in 2021-2022 Spring Semester), was entitled to the special selection published by ACTAR. Moreover, a 50% undergraduate scholarship for the 2022/2023 period of the IAAC Academic Committee was offered to our students, who took attention with their achievements.
For detailed information please visit: Results of the 9th Advanced Architecture Contest – Advanced Architecture Contest
In the Starry Night competition organized by Showcase your creative potential on real world design competitions (uni.xyz) , our students became WINNER with their project 'PER ASPERA AD ASTRA'.
For detailed information please visit: Starry Night Public Building Competition | Pennsylvania | Results (uni.xyz)
Congratulations to our students who make us proud with their achievements; We wish you continued success...